https://wsdot.wa.gov/construction-planning/major-projects/ferry-system-electrification
Major Project overview
Washington State Ferries (WSF) is embarking on an ambitious initiative to begin the transition to an emission-free fleet through a hybrid electric ferry system. Currently, WSF operates the largest ferry system in the United States. It is also the biggest contributor of greenhouse gas emissions of any state agency in Washington, burning 19 million gallons of diesel fuel to support 24 million passengers every year.
This shift to hybrid electric ferries is in response to governor and legislative direction as well as in alignment with the agency's own long-range planning initiatives. To transition to a hybrid electric fleet, WSF is working on the three key elements of the electrification system – building new vessels, converting vessels, and electrifying the terminals.
Timeline overview
2020-2040
Major project status
Pre-Construction
Funding
$1.33 billion secured funding | $3.98 billion total estimated cost
Major project alerts
The Request for Information for a new design-build contract for five hybrid electric Olympic Class vessels is now closed. Check the "What to expect" tab to learn more about the upcoming Request for Proposals.
Contact
Suanne Pelley
Major Construction Communications Manager
WSFelectrification@WSDOT.WA.GOV
Current solicitations
Hybrid electric Olympic Class vessels
The Request for Information (RFI) for a new design-build contract for five hybrid electric Olympic class (HEOC) vessels is now closed, but can be viewed at the Washington State Ferries contracting website.
Jumbo Mark II vessels
In March 2023, we plan to solicit bids from shipyard partners to convert three Jumbo MKII vessels to hybrid electric propulsion.
Summer 2022 electrification update
With new funds from the 2022 Move Ahead Washington transportation package, and other previously secured funds, WSF has now secured $1.33 billion in funds to:
build up to five hybrid electric Olympic Class vessels;
complete up to four vessel conversions; and
bring power to terminals in central Puget Sound.
This investment is critical to the health and sustainability of the state's ferry system.
Hybrid electric vessels
WSF has nearly completed the functional design for the HEOC, through a contract with Vigor ship builders. This design work will be the basis for construction of five new vessels, each with capacity for 144 vehicles. WSF will seek competitive bids to build the HEOC vessels. For these new vessels, WSF believes that this bidding opportunity, along with plans for 11 future vessels, will generate considerable interest from the maritime industry to build these vessels in Washington state. WSF is poised to launch this Request for Proposal process in summer 2022. We look forward to securing a partner to work on this exciting project and build five new hybrid electric vessels in the state of Washington as soon as possible.
Jumbo Mark II conversions
WSF will solicit competitive bids in March 2023 to convert the three Jumbo Mark II vessels to hybrid electric. Our team estimates that the converted Wenatchee will begin service in 2024, with conversions of the Tacoma and the Puyallup to follow.
Terminal electrification
WSF continues to work with multiple utilities that provide service to the terminals. Initial engineering and design are underway to build the necessary infrastructure to charge the vessels.
Additional resources
For a primer on WSF's electrification efforts, please see this video: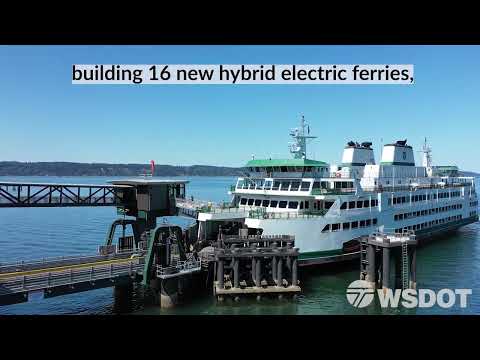 For a more in-depth look at our ferry electrification efforts, watch the extended video.