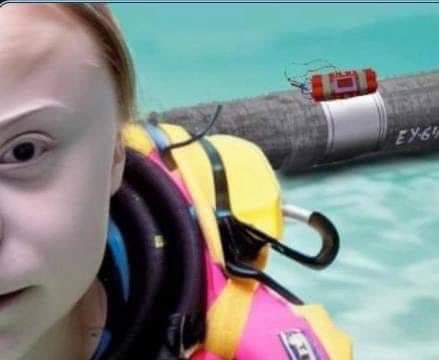 How dare she, how dare she!
Loved it!
Classic analogue humor in digital format[17+ dwarfs]
You persist in posting content which generates a "disgust response". This may be construed as a typical MK-Ultra -type technology( or MK-Naomi, or MK-etc…) .
This is NOT ON. As in, unacceptable.
IF you are an actual human, and not a bot or FBI laptopboy, then kindly turn your sights to more solution-oriented praxises.
Thank you.
I nearly choked on my project ARTICHOKE!!!.. Oh but life would so simple, if I were a "bot"…but alas, I'm Not…
Life is not supposed to be hilarious. Life is pleasant, and SHOULD give rise to Joy.
Not funny.
Oh, yes, + 20 characters
Blowing up a pipeline doesn't really seem like Greta to me but I wouldn't be that surprised if she did something like that.
What kind of a question is that?
What brings you here to the star of death today?
She hardly seems competent.
Anyway, rumour suggests that ANTO/NATTO was involved, and, that Denmark special forces themselves did the dirty deed.
Of course it was the Danes.
Did you just make up that word or you speak dænish?
I do indeed speek-a-da-Danish. But, "the word" I attempted to reference was noted to the tribe of "Dan", whilst having a tounge-in-cheek to offshore drilling. Anyway, Denmark still owns Greenland, the full continent in the Arctic, and thus is a major power in this Play.
Ah, the Dani of tribe Dan. Thought at first you were correcting my plural for Dane. Beautiful country Denmark.
Yes, it can be nice, with the hedged-in gardens, coffee in the backyard with the 0roses… But, being here as of now, I really miss mountains; I love them mountains, remote thunderstorms a-brewing.