Nevermind aliens. These reports are the scariest imaginable.
Farming, or culturing/cultivating, insects releases huge amounts of ammonia( NH³) which more or less gets vented directly into the atmosphere. Thus producing vastly more nitrogen( N²/N³) than standard farming.
That NWO noose is visibly tightening.
It really is terrifying.
Not to mention insane. At a time when the EU is going to freeze it's people, they are removing the food. If people don't start acting instead of watching the screen…
The Dutch farmers mounted a protest once. Regular people need to join them a second time, don't know how mesmerized the population is though.
The WEF are evil and the sooner people realise their scheming sick plans the better. The main stream media are part of this occultist mindset. Across the pond we have arson attacks on plants but, Strange how Billy G's farms do not get burned down to the ground… These sick people have stepped out from the shadows now.At least we know who is to blame for this ongoing genocide.
The ultimatum has ended. Farmers protest has started again in Zwolle. The police force is larger.
Next thursday there will be a large farmers protest.
This is close to my home. They are mobilising.
Een impression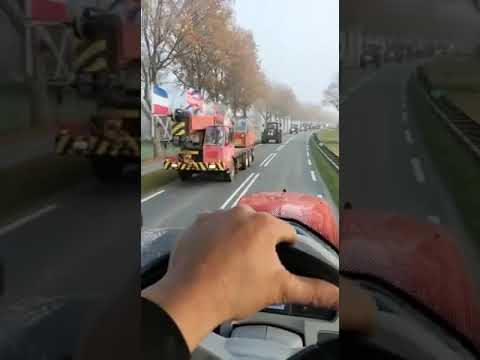 And this is how the police operates.
You see a protester/farmer hamds up in the air trying to stop the police shovel. The police uses this shovel to move and destroy the farmers tractors.
In seconds the farmer is surrounded by undercover police, they often have covered faces (we call them Romeos)
The mobile unit bus arrives while police protect the area.