Sorry for your loss, kalamona. Losing a dog is tough.
My grandad told me you only get 3 dogs in your life. I hope you have another one.
thanks man. remember the day when he was brought home in a box in our old Daihatsu Cuore. oh, boy.
Sorry man.
The wife and I are just starting over with a yellow lab pup.
I am very sorry for your loss.
Oh I am so sorry kalamona… God bless in your grief…
We too have had more losses than we wanted to endure from a very early time in our lives. After a period of grief, we were blessed with a few stray animals, and perhaps it was partly due to the director of our local animal shelter who lived nearby. Folks began to 'drop-off' both dogs and cats near our area. We took all of them in. We gave all of them the love all of us deserve. Short story short… we have been blessed beyond all understanding.
Man. Your grandfather didn't live very long, I guess. My first dog was Jack when I was 5. There was Lizzy, Molly, Honey, Ella, Grace and Dot since then. Dot is 15, too so I know how hard it must be for you, @kalamona. She is totally blind and somewhat deaf and old-dog-bad-breath but I wouldn't give her up for anything. I always replaced my dogs pretty quickly (they all lived to be 8 or older, often in double digits) or had one "waiting in the wings" (you can do that on a ranch). My young dog, Joy, is still with her puppy friends but is slowly learning to ride in a car and think about progressing from sheep to house dog… when the time is right.
Dot and Beretta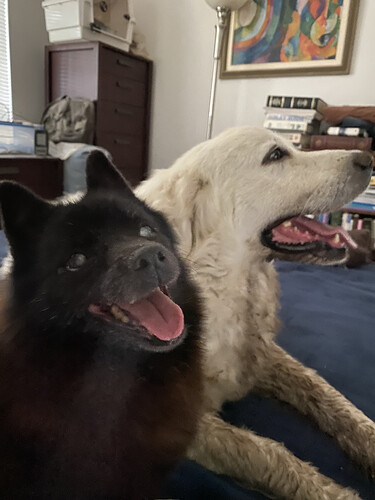 (Beretta can't handle the fireworks or thunder and winds up on the bed- sheep dog near my house).
Joy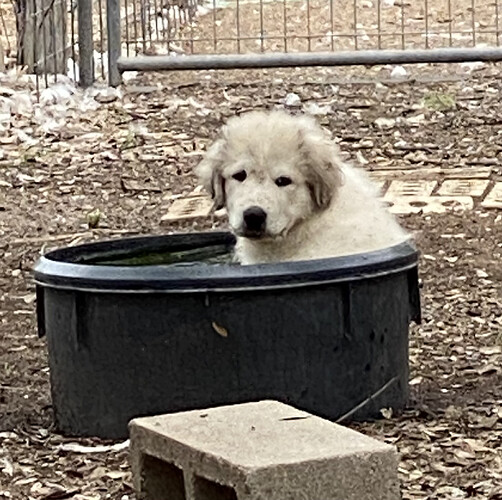 I've never had a dog, they were and still are outlawed at my dad's land because they tend to bark at and chase away the wildlife. This is true of my neighbor's new puppy Athena who always chases rabbits out of their yard and barks at the deer and anything she doesn't recognize which includes me if I'm wearing unfamiliar clothing or carrying something.
This is always difficult to lose a friend, I wish for your dog a peaceful journey to the great beyond.
My other neighbor also has a dog who only has one eye and also barks at everyone.
The name "Silent" is a good unique name for a dog.
Sorry to hear this, my dearly loved epic grey cat Cloud passed away a few days before Xmas. He was 21 which is a pretty good innings!
WOW. Sorry to hear that @ShadowNet. That was some serious 9 lives for a cat! I miss having a cat in my lap.
Hope Wuska is ok though? How many cats do you have?
Yeah she's fine, also no spring chicken at around 14 but still sharp enough to give the local ginger tom something to think about.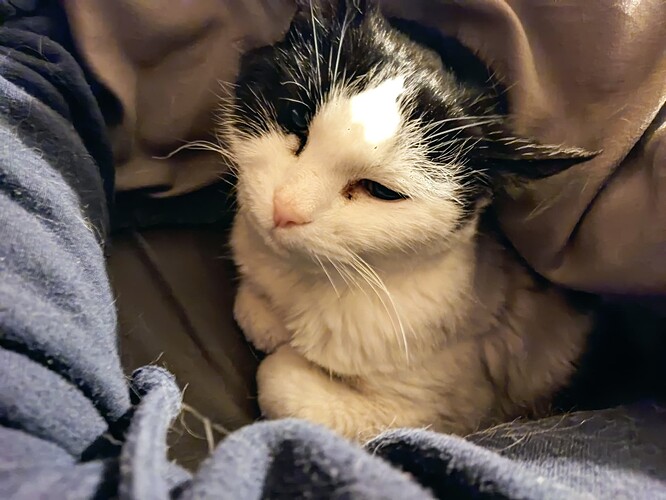 I don't know how old my cat is but she is also no spring chicken, because she is a cat.
Can't you carbon date it?
Mystical wisdom in her expression, fair play!
It's just Wuska now, she is a handful and can be a bit wild. I've never known such an insightful animal but she is none too entertaining of fools.
A whimsical cat with a mind of her own for sure.