Geez sounds like a nerve was disturbed, bring out the ole conspiracy theory tool.
It's the presidential birth certificate thing again…Repeat repeat six million Jews were killed by the Nazis. The Ukraine never had any Nazi sympathizers in its military.
Oh and none of the original Bolsheviks were Jewish or murderers either.
I think that Lavrov might have been attacking Nazi/Jewish sympathisers in the West. With reference to Sergei Gleznev's comment about the Russians concern about the Nazis in Washington. Lavrov's comment follows on from this line of thought.
yep. and the zionist was in bed with the nazis and so on. just as right now in Ukraine.
these people call themselves Jews, but nothing else than the Synagogue of Satan. poor, everyday jews do not understand a thing. and the circle goes.
agreed. its quite simple. they paid for it. paid for the 'revolutions', paid for the wars, paid for everything we sit in right now, and see the noodles revolving in such a manner, that really astonishes the man. revelations all the way, and all the old stiches of lies are cut and let loose. decades-centuries-thousands years of lies unravel.
bumpy kali-yuga ride
According to Moscow Nazis are everywhere you look. Most of them of course brought to USA with a Paperclip Operation. People seem to forget that Paperclip was 1K to 3K Germans brought to the shores of US and then of course later their offsprings, and Soviets brought to Russia tenfold of that number of German scientists and technicians to work on their secret military projects. And of course, after they did their job Stalin and later Khrushchev returned them quietly back to Germany, right.? Just from the statistical point of view, most of Nazi found their new location in USSR, not Argentina, USA, Africa or Indonesia.
Where about mostly? My guess Belarus and Kazakhstan. It is time for West turn a table and start to look for those pesky Nazis in these places. .
What role do you think these Nazis are playing in Russia? Are they covertly plotting a revolution to bring in a one world government or have they been absorbed into society, a possibility I doubt? Are they acting alone or part of the wider international web of Nazis?
Personally, I think that they are a part of Russian Deep State, some of them got ingrained into a GRU and KGB some of them worked in secret black projects but where are their true alliances, is hard to say? They are not Russian patriots for sure.
Something about to happen shortly. Insane amount of spy flights over Ukraine right now; dramatic jump in number. Take a look. This guy definitely has the info, as he was chosen to work Pentagon rescue efforts the night of 911.
First hour has it. Will have to hunt for it, as it's livestream.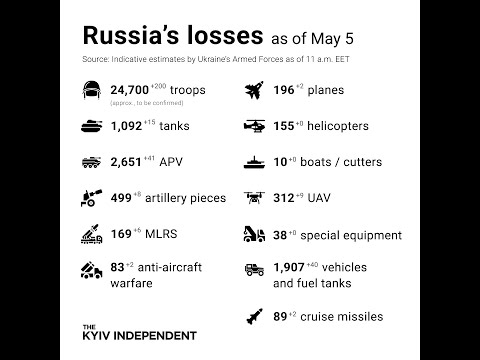 This military inventory only tells me that West believes that Ukraine can win this war.
It tells me NATO is going to help Ukraine win this war. This is why I keep saying that Russia cannot win, short of going nuclear (& I think they know this). Even then, who "wins"? We all lose. It's a horrible situation. Sure helps cover the "food loss" & depop, if that's what they're after.
They all need to go to jail…
Nothing like a proxy war to keep everyone occupied and making money on human misery. Wonder why history is no longer required in most colleges? Nothing new ever happens so why bother.
We have to start something new as individuals. If we don't make it, no one will. Hope
If we're going to take care of ourselves first, then, please go to the thread I just brought to the top about Stopping Digital Currency. THERE ARE BILLS IN PLACE TO STOP THE FED FROM DOING THIS, BUT THEY NEED OUR SUPPORT!
All you have to do is press a few keys on the keyboard, or, make a phone call.
There is nothing that states this video is live. It is a role playing game, for entertainment purposes. Now an error has occurred and the vid disappears ?
It was a live video when I posted it. It might have been removed by YT, as they do tend to dislike his "disinformation".
I am an old song. Been played by many.
I'm sorry, that looks like I'm talking about you @ebmason . I mean the video.
Nah, no problemo, chipha.