Quick! Everyone check your freezer!
Often times when I go searching for frozen goods and take my glasses off, I leave them in there, so, checking for that jet right now. Everyone has one of those 'places' you know…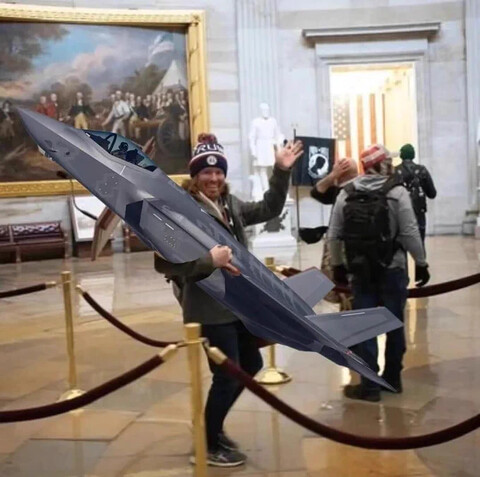 Look for some Arab box cutters in caves.
They're quite adept in doing the impossible; as long as it's politically correct - of course.
@Robert_Barricklow
"…The CIA can't find them but CNN can?" - Bill Cooper
(I really miss that man.)
Found it! Scroll back to beginning and all should be reported in first 10 mins. All F35's grounded for 2 days now. Unknown if this grounding in this area only or nationwide. Hmm.
I think there is a chance that F35 Fighter was taken over control by a foreign entity, be they a nation or a clandestine organization or a globalist group.
Not to steal the plane. But to commit the very act to control it and crash it so as to intentionally let the US know they can take control of it and possibly other of our tech-dependent weaponry. It seems there has been an ongoing 5G style warfare with shadowy clandestine figures and states for a while now.
There were a few similar events in the past couple or so years where the US Navy newest technology ships were taken control over and damaged at sea. I recall a couple in the Pacific and gulf oil states area as well. Anything with tech can be hacked. We are being played in an All too dangerous apocalyptic game these days.
Indeed, we do miss William Cooper. He sure got a lot right and was a TRUE Patriot. We are living in the world he warned us of decades ago.
@SWT1
Welcome to the forum!
Thank you! Happy to be here. Always enjoy hearing Joseph Farrell

Geez I wonder what a "mishap" is, or was the mishap when the pilot tried to adjust the seat and oops, wrong button….This dumbing down in education is effecting
Lots of things…
I thought it was just F35's grounded for 2 days?
Military would be letting it hang out to halt all aircraft.
Hi. I read that the military grounded only the F35 jets, not all the other type of aircraft.
As usual…you make me laugh!!!

… I continue to wonder whether or not NORAD functions as we've been told or even functions at all. Given the claims concerning NORAD's abilities it seems that incident after incident where a quick call to NORAD would provide the necessary info (Hawaii Missile Alert, Malaysia Flight 370, United Airlines Flight 93, American Airlines Flight 77 come to mind, as well as recent balloon incidents) to answer questions concerning locations. … Just sayin"
I personally think it is part of the movie that makes us realize that there are amazing technologies that they are now letting you know THEY have (in this case, both the "good guys and the bad guys") including guiding an airplane, like a F-35 off the map, mask its transponder, and do with it whatever they want. Sort of like using large Boeing aircraft designed to carry travelers to perform like drones in order to fly into tall buildings. Sort of like that.
Truth is, we are fortunately bystanders at the moment, watching a war. There are unfortunate civilian casualties. It is war.